Microfocus AI X-ray Parts Counter XC-01
The micro-focus X-ray tube of the X-ray inspection system can generate X-rays, penetrate the reels, and then reach the flat panel detector. After the flat panel detector converts the X-rays into digital signals and displays them to the software, the software will count how many pieces of components for you.
1. Working Principle
2. Sample images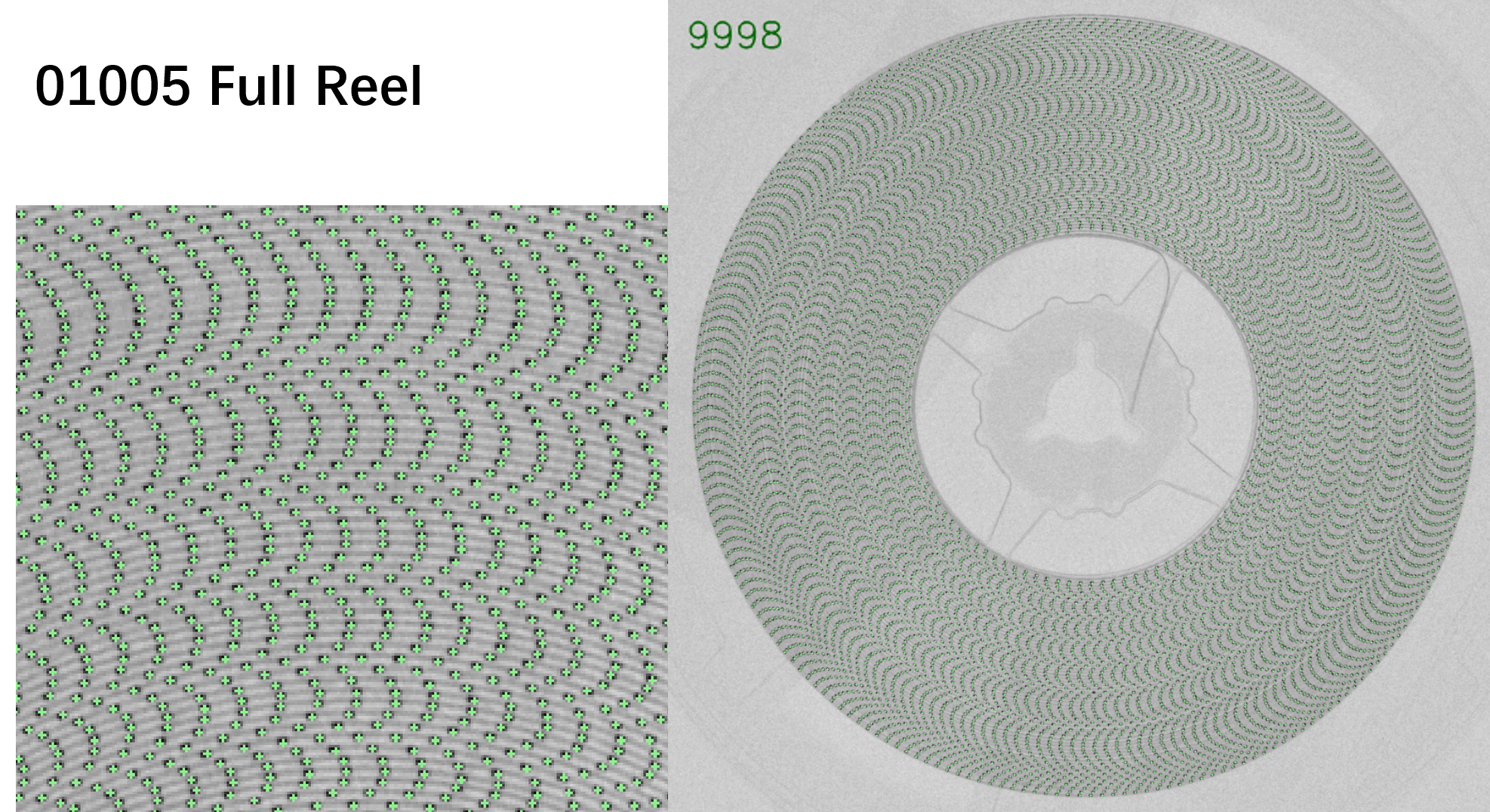 1. America closed type X-ray tube, long lifetime, maintenance-free.
2. 17" super definition digital flat panel detector (FPD), eliminate the scanning detector.
3. Ultrafast counting, one 7" (180mm) reel needs about 9s, four 7" reels or one 15" (380mm) reel needs about 14s.
4. Can count max 17" (430mm) diameter reel with a moisture barrier bag or JEDEC tray, etc.
5. Artificial intelligence deep learning algorithm with independent intellectual property rights, software accumulates data to the cloud database and shares it to all machines.
6. No need to enter the reel data in the factory in advance, users can use it directly.
7. Compared with the traditional parts counter, it can greatly improve the efficiency and accuracy, save manpower, and greatly shorten the time of material entering and leaving the warehouse.
8. Support MES, ERP, and other systems, to manage material warehouses digitally. Permanent software algorithm updates.
1. XC-01 parameters
X-ray source
Type
Closed, microfocus
Max tube voltage
80kV
Max tube current
700μA
Focal spot size
30μm
Flat panel detector
Type
Super definition digital FPD
Effective area
427mm*427mm
Pixel size
139μm
Resolution
3072*3072
Reel/tray counting
Max size
17" (430mm)
Max thickness
85mm
Min parts size
1005
Speed
7-10s
Accuracy
≥99.9%
Equipment
Dimensions
1000mm (L) * 1300mm (W) * 1920mm (H)
Weight
850kg
Power supply
AC110-220V 50/60HZ
Max power
1500W
Industrial PC
I7-6700 CPU, 8G RAM, 240GB SSD
Displayer
24" HDMI LCD
Other functions
Code scanning
Barcode and QR code.
Label printing
Print material code and quantity automatically after counting.
Management system connection
MES, ERP etc.
Safety
Radiation leakage
No leakage, international standard: ≤1μSv/h.
Back door safety interlock
Once users open the back door, X-ray tube will power off immediately. When the back door is open, users can't turn on the X-ray.
Tray collision protection
There are steel plates protect the tray from collision when it comes out.
Anti-pinch safety light curtain
Once the hand enters the movement range of the tray, the safety light curtain will be triggered, the tray will stop immediately, and the software will pop up a prompt at the same time. Users can continue only the hand leaves and click confirm on the prompt.
Emergency stop
In front of the operation position, press to power off.